Suspended Ceilings in West Palm Beach, FL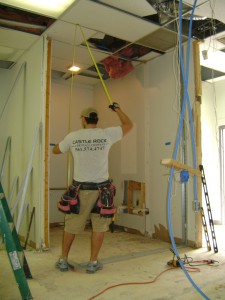 A suspended ceiling, also known as a drop ceiling, is a secondary ceiling that is hung below the main ceiling. It is most commonly used in commercial settings, but it can be added to any residential home as well.
While suspended ceilings won't work in every situation, and they are not for everyone, they make a lot of sense in basements and first floor rooms. They are ideal for rooms that are below bathrooms, and if a leak appears in the overhead plumbing a suspended ceiling can make for easier access to the plumbing.
Castle Rock Drywall Co. is a professional West Palm Beach suspended ceiling installation company. Our professional workers have the proper skills to install a drop ceiling in any room in your house. These ceilings are installed using a metal grid, which can be customized to any color to match your ceiling. Pieces of the suspended ceiling are then fitted between the metal grids to complete the look.
The professional workers at Castle Rock Drywall Co. can help you find the perfect look for your suspended ceiling. If you are redoing your basement, adding a suspended ceiling can dramatically improve the appearance of your basement while still serving a functional purpose.
Our Suspended Ceiling Installation Process
We have a detailed suspended ceiling process that involves several different steps. To start, we make sure to fully measure your ceiling and plot out on graph paper the exact location of all windows and doors. Second, our professionals will plan the layout for your ceiling. This is the step where we determine how much material will be needed, and how large the pieces need to be.
After the measurements are configured, our professionals will decide how low your ceiling will need to be installed. It can be installed at a standard level or to the homeowner's specifications. Once the level has been determined, we start by installing your grid. This grid is completely secured by our professional level tools and equipment.
When we install a suspended ceiling in your West Palm Beach home, we have the skills to make sure your ceiling is properly installed with light fixtures, air ducts and more. Installing a ceiling takes a lot of planning, and there are several features that unprofessional can easily over look. At Castle Rock Drywall Co. we will install your West Palm Beach suspended ceiling while making sure that it is fully equipped.
Finally, once the ceiling is completely installed, we do a final walk through with the homeowner to make sure that everything fits your high standards. If there are any problems, our professionals will work attentively to make sure that all of these problems are successfully resolved. At Castle Rock Drywall Co., we believe in meeting all of our customer's standards, and we guarantee that your new ceiling will exceed your expectations.
Our West Palm Beach Suspended Ceiling Services:
West Palm Beach Suspended Ceilings
Drop Ceilings
Ceiling Grids
Ceilings
Ceiling Installations
Drop Ceiling Installations
Light Fixtures
West Palm Beach Ceilings
Ceiling Repairs
Customized Ceilings
Air Duct Panels
Florida Drop Ceilings
Check Out Our Completed Suspended Ceilings
If you are looking for a West Palm Beach Suspended Ceiling Installation Company, then please call 561-574-4747 or complete our online request form.