West Palm Beach Venetian Plaster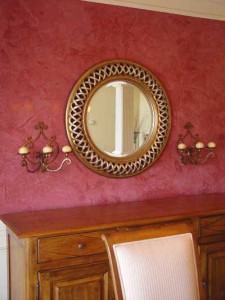 Venetian plaster is when an expert applies a thin layer of plaster to the walls or ceiling of a home. The plaster is brushed into a smooth surface, while still giving the illusion of texture. Authentic Venetian plaster is one of the most authentic wall finishing you can have. It gives you the look of marble or stone.
Castle Rock Drywall Co. provides West Palm Beach Venetian plaster services that will transform your plain walls into an elegant texture. Plain walls are boring, and they do nothing to compliment the interior decor of your house.
Our professionals can help you improve the appearance of your home through professional West Palm Beach Venetian plaster services. This plaster is a wonderful choice for surfaces that are subjected to water. Lime plasters perform extremely well in wet climates. If you have a bathroom or an exterior room that you want to apply texture to, Venetian plaster can be the perfect solution
At Castle Rock Drywall Co., our professionals use a step-by-step process to successfully install the Venetian plaster.
Our West Palm Beach Venetian Plaster Process
When it is time to start your Venetian plaster project, we will begin by prepping your room. This means all furniture, removable objects and homeowner's processions are removed from the room. We will then cover the flooring and remaining areas with drop clothes and plastic tarps. This will help keep these areas from being harmed by splattering plaster or spills.
Our skilled team uses professional steel trowels to apply the Venetian plaster to your walls. We load the trowels with Venetian plaster and start at the top corner of your wall. We spread a thin layer of plaster on the surface by switching between short and long strokes. We continue this process until your wall is completely covered with Venetian plaster.
We will then allow this layer to completely dry before we apply the second coat. Once the second coat is allowed to dry, we will thoroughly inspect your walls and conduct any touch ups. At Castle Rock Drywall Co., we stand by our work. If you have any issues with our services, we encourage customers to call use immediately. We will work diligently to ensure that all of these problems are properly handled.
Why You Should Hire Us For Your Venetian Plaster Services
Castle Rock Drywall Co. is a West Palm Beach drywall company that has been providing drywall textural services for years. When it comes to applying texture to walls, our professionals are the best. We train all of our employees periodically throughout their entire employment to guarantee that they are up-to-date in the latest drywall texture processes.
We believe in providing our customers with high quality services that will improve the appearance of their home and last for years.
Our West Palm Beach Venetian Plaster Services:
Drywall Textures
West Palm Beach Venetian Walls
Drywall Repairs
Interior Drywall
West Palm Beach Venetian Plaster
Drywall Texturing
Plaster Services
Drywall Repairs
Venetian Plaster
Repair Services
Textured Walls
Drywall Renovations
Check Out Our Completed Venetian Plaster Jobs
If you are looking for a West Palm Beach Venetian Plaster Service, then please call 561-574-4747 or complete our online request form.