West Palm Beach Wallpaper Removal Services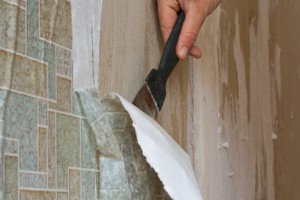 Wallpaper can be a great way to style the inside of your home, but once you are ready to change your style, you need to remove the old wallpaper. Wallpaper that was fashionable years ago needs to be removed before you can successfully change your interior decor.
Wallpaper is a tricky material to apply, but it can be even more difficult to remove. Removing old wallpaper puts the structure of your walls at risk. If your wallpaper has been on your walls for years, it may have already damaged your drywall.
Castle Rock Drywall Co. is a professional drywall repair company that always provides West Palm Beach wallpaper removal services. We can help you completely revision the interior of your home without wallpaper.
There are several different variables that can affect how easy a wallpaper removal process can be, or how hard it can be. The professionals at Castle Rock Drywall Co. can ease your frustration through our professional removal services. We have experience removing all different types of wallpaper, and we have a detailed process that ensures your wallpaper will be removed without causing damage to your walls.
Our team of wallpaper removal experts has the skills to handle even the toughest and oldest wallpaper. In the past, we have dealt with all different types of glues and papers. We will remove the wallpaper as quickly and as clean as possible.
Castle Rock Drywall Co. uses a detailed West Palm Beach wallpaper removal process that guarantees your wallpaper is successfully removed.
Our West Palm Beach Wallpaper Removal Process
Just like the beginning of our popcorn ceiling removal process, we start by caring for your house. This is our number one issue. We begin the process by prepping your room. Our professionals will carefully removal of your belongings from the room so that they are not damaged during the removal service.
Once the room is clear, we will cover the base of your walls and flooring with special drop clothes to protect these areas from being harmed. All switch plates and outlet covers are removed from the walls.
Next, our professional wallpaper removers puncture small holes into your wallpaper using a special tool. This tool will not damage the drywall beneath your wallpaper. This will allow our solution to penetrate through the glues and adhesive base.
We use a high grade, commercial level wallpaper removal solution. This solution works better than hot water and fabric softener. We will spray small sections of your walls with the solution to allow it soak in without being left on your walls too long.
Once the solution has been left on for a few minutes, our professionals will start stripping the wallpaper from your wall. We will take good care of your walls so that you have smooth surface to work on with your next project.
As the process nears to the end, we will clean your walls with sponges and hot water to removal all traces of the glue and adhesive bond. Your walls are then towel dried to avoid water damage. You are now free to apply new wallpaper or interior paints!
Our West Palm Beach Wallpaper Removal Services:
West Palm Beach Wallpaper Removal
Wall Stripping
Commercial Wallpaper Removal
Drywall Repairs
Wallpaper Removal
Interior Decorating
Residential Wallpaper Removal
Wall Renovations
Wallpaper Stripping
West Palm Beach Wallpaper
Wallpaper Removal Service
Wallpaper Replacement
If you are looking for a West Palm Beach Wallpaper Removal Services, then please call 561-574-4747 or complete our online request form.